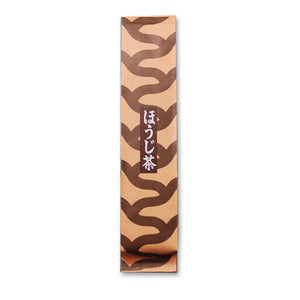 UOGASHI MEICHA ほうじ茶 / houjicha 100g
€12,00

€12,00
Tax included.
Shipping
calculated at checkout.
---
---
内容量:100g
この香ばしくてさわやかな日本茶は、煎茶や番茶を強火で焙煎して作られています。焙煎工程により、葉のタンニンとカフェインの含有量が減少し、渋味と苦味が抑えられ、香りが引き出されます。
ほうじ茶は温かみのある茶色で、ややマイルドな味わいなので、お子様やお年寄りに人気です。カフェインが少ないため、日本では乳幼児にもやさしい緑茶として飲まれています。
一番の特徴は香りです。うおがし銘茶のほうじ茶は、昔ながらの製法で茶葉を焙煎し、芳醇な香りを引き出しています。
素晴らしい香りとやさしい甘みをどうぞお楽しみください。
This fragrant and refreshing Japanese green tea is made by roasting sencha or bancha over a high flame. The roasting process diminishes the tannin and caffeine content of the leaves to suppress astringency and bitterness and draw out fragrance. Hojicha is a warm brown color, and since it has a somewhat mild flavor, is popular with children and the elderly. Low in caffeine, hojicha is also the green tea of choice for infants in Japan.
●About This Tea
Aroma is the best part of Hojicha.
UOGASHI MEICHA is careful in roasting tea leaves in an old-fashioned production method and bringing out its sweet and roasted fragrance.
---
We Also Recommend