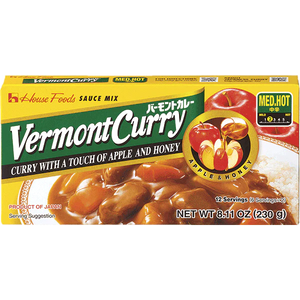 House バーモントカレー 中辛 / Vermont Curry Mild Hot
€6,20

€6,20
Tax included.
Shipping
calculated at checkout.
---
---
内容量:230g
りんごとハチミツを使ったまろやかなおいしさのカレーなので、小さなお子さまから大人まで幅広いお客様においしく召し上がっていただけます。
100%国産のりんごペーストと風味豊かなハチミツ、乳製品などを加えたまろやかでコクのあるカレーが味わえます。
The curry is mellow and delicious using apples and honey, so it can be enjoyed by a wide range of customers from small children to adults.
You can enjoy a mellow and rich Japanese curry with 100% domestic apple paste, flavorful honey and dairy products.
---
We Also Recommend