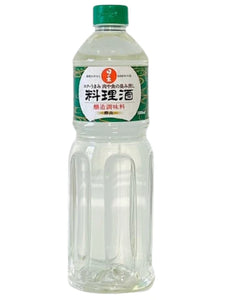 Hinode 料理酒 800ml / Cooking Sake
€7,50

€7,50
Tax included.
Shipping
calculated at checkout.
---
---
内容量:800ml

日の出料理酒は料理専用に加塩醗酵した調味料です。うまみ、コクをつけるだけでなく材料を柔らかくする効果や魚や肉の臭みを消すマスキング効果にも優れています。煮もの、炊きもの、焼きものはもちろんそうめんつゆなど麺類のつゆ、二杯酢、三杯酢づくりにもご利用いただけます。また日本料理ばかりでなく中華、洋風料理にもご利用いただけ重宝です。お塩は、やや控えめにお使いください。
Hinode Cooking Sake is a seasoning that has been salted and fermented exclusively for cooking. It not only adds umami and richness, but also has an excellent effect of softening the material and a masking effect that eliminates the odor of fish and meat. It can be used not only for boiled foods, cooked foods, and grilled foods, but also for making noodle soups such as soup noodles, two cups of vinegar, and three cups of vinegar. It is also useful not only for Japanese food but also for Chinese and Western style food. Use salt slightly sparingly.
---
We Also Recommend