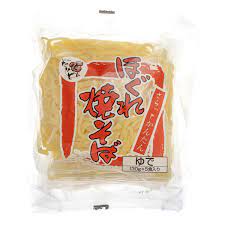 ほぐれ焼きそば 5食入り / Yakisoba Noodles
€4,20

€4,20
Tax included.
Shipping
calculated at checkout.
---
---
内容量:130g×5
伝統の技と画期的な新技術製法により実現したまったく新しいタイプの焼きそばです。更に、さらっと簡単に麺がほぐれ、調理も簡単にできます。お好みの具材とソースでオリジナル焼きそばを堪能ご賞味ください。
It is a completely new type of yakisoba realized by traditional techniques and epoch-making new technology manufacturing method. In addition, the noodles can be easily loosened and cooked easily. Please enjoy the original yakisoba with your favorite ingredients and sauce.
---
We Also Recommend