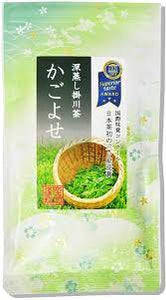 深蒸し掛川茶 / Japanese Green Tea From Kakegawa
€8,50

€8,50
Tax included.
Shipping
calculated at checkout.
---
---
内容量:100g
ヨーロッパの一流シェフやソムリエが加工食品や飲料などを審査する「国際味覚コンクール2017」において、「かごよせ」が最高位の三ツ星(優秀味覚賞)を受賞。
六年連続七回目の受賞で、日本茶のリーフ(葉)では唯一。
また、十年で七回受賞した製品に贈られる「ダイヤモンド賞」も獲得した、美味しい緑茶です。
"Kagoyose" won the highest three-star (Superior Taste Award) at the "International Taste Contest 2017" where top European chefs and sommeliers judge processed foods and beverages.
This is the seventh award for the sixth consecutive year and the only Japanese tea leaf.
It is also a delicious green tea that has won the "Diamond Award", which is given to products that have won seven times in ten years.
---
We Also Recommend