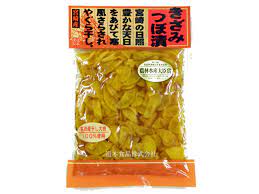 宮崎県産 刻みつぼ漬け / Kizami Tsubozuke (Pickled radish)
€3,50

€3,50
Tax included.
Shipping
calculated at checkout.
---
---
内容量:120g
上質の宮崎県産干し大根を100%使用したお漬物です。
寒干しした大根にしょう油味の酸味と甘さをバランスさせて仕上げたつぼ漬けで、歯応えのある食感をお楽しみいただけます。
干し大根は、生大根に比べて約3倍の食物繊維を含んでいます。
A pickle made from 100% high quality dried radish from Miyazaki prefecture.
You can enjoy a crunchy texture with the soy sauce-flavored soy sauce and sweetness of the cold-dried radish.
Dried radish contains about three times as much dietary fiber as raw radish.
---
We Also Recommend